Oktoberfest hairstyle Tutorial with braids
Sep 19, 14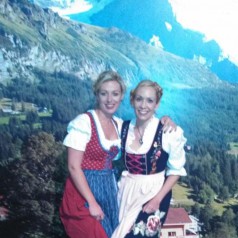 Well, I thought as a real German girl I do a Hairstyle Tutorial in English to bring a very traditional German look out in the world for all of you who are going to Oktoberfest or a simillary themed party and want it original when wearing a Dirndl dress.
This here is a modern interpretation of the "Schneckenfrisur" which means "Snail Hairstyle" and works well with shoulder-length hair.
"Schnecken" were very popular in Germany for girls and young woman from 19th century until the Fifties of the 20th century. After that it got old fashioned and gave a strong countryside touch what is exactly what we want 😀
Actually you know this hairstyle from Princess Leia in Star Wars, which was shooted in the Seventies. In my opinion it was kind of a strange choice of hairdo for a girl of the future.
The real traditonal Schneckenfrisur is done with braids formed to a circle over the ears. With natural hair this is only possible if you have very long and thick hair.
So definetely not with my hair.
For this tutorial we used a pretty cheap piece of fake hair for extensions and made a chignon in the back to hide the edge of the fake hair. With a hair piece it will work for you as well even if your hair is very thin and even short.
Oktoberfest Hairstyle Step 1
Start in the front with a side parting.
French braid the shorter front part and fix it.
Make a ponytail.
Oktoberfest Hairstyle Step 2

Put the edge of the fake hair with its seam over the ponytail. You can use any kind of fake hair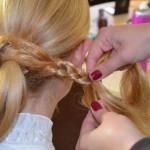 Put one half of the fake hair to the left side and the other half to the right.
Root the extension with hair pins.
 Oktoberfest Hairstyle Step 3
Now braid  the right part of the fake hair.
Fix th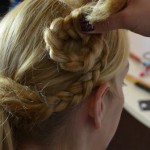 e ends with a hair tie in or close to your hair colour.
Oktoberfest Hairstyle Step 4

Make a "Schnecke" with the braided hair directly over your ear and pin it.
Oktoberfest Hairstyle Step 5
Now braid the left part of the hair
Oktoberfest Hairstyle Step 6

Make a second "Schnecke" with the braided hair on the left side.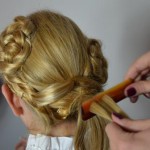 Give the hairdo a modern twist by placing it asymmetrically and higher over the ear, almost on top of the head.
Integrate the small french braid from the front you made in the beginning.
Oktoberfest Hairstyle Step 7
Now style the back and the ponytail.
Form a roll with the hair and pin it.
Use Hairspray to fix everything.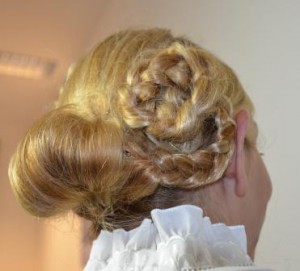 Finished Oktoberfest Look
This asymmetrical hairstyle is very good to wear a felt hat or fascinator with which got very popular at the Oktob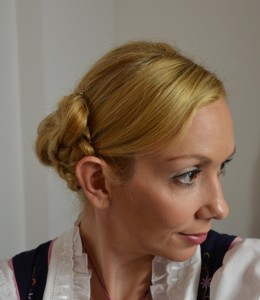 erfest in Munich over the last years…
And here are more of my Octoberfest Tutorials, use google translator in the widget area on the right as they are in German:
Cute Wiesn Tutorial for long hair